The Waterproof Vinyl Roof & Walking Deck Membrane System that Gives You So Much More
   Permanent waterproof protection
   For sundecks, roofdecks, balconies & other areas
   Available in many stylish colors, patterns & textures
   Industry-leading 10-Year Warranty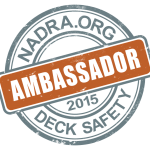 Duradek, The Original sheet vinyl pedestrian traffic membrane for waterproofing decks and balconies was developed to solve leak problems 40 years ago.
   All Duradek sheet vinyl is designed for strength, stability and slip-resistance.
   Duradek waterproof vinyl flooring is available in North America from authorized installation contractors.
Over 125 million square feet of deck, patio, balcony and roof deck surfaces have been protected with Duradek.
The old liquid applied and concrete topping products were the only options previously available, and they were failing repeatedly.
Property owners and builders complained about leaks, unsightly appearance, expensive repairs and time-consuming maintenance.
Duradek recognized the need for a better method of waterproofing.
REQUEST A QUOTE
Call us @ 866.724.5272 or Contact Us Online:
Waterproofing System
Duradek: Complete Waterproofing System
All Components Available from Duradek
Duradek Permanently Waterproofs
Better Than Any of the Alternatives
All necessary components of the finished waterproof system are available from Duradek. This includes the adhesives, sealants, all drains, scuppers and perimeter fastening devices.
All Duradek products, when applied by an authorized Duradek contractor, are covered by written warranties. Terms are dependent upon product thickness.




Commercial Applications
The Duradek System consists of a number of different types of sheet vinyl products, designed individually for many end uses.
All are textured PVC, laminated to a polyester reinforced fabric for additional strength. Available in an assortment of widths, thicknesses and textures, Duradek vinyl membranes offer a wide range of waterproofing solutions in both residential and commercial construction. Heavy duty, vinyl membranes are perfect for use on roof decks.
Duradek is available in a range of textured surfaces. The relatively smooth vinyls provide a maintenance free, easy to clean surface. Very rough textures offer a high degree of slip resistance, but requires more aggressive cleaning techniques.
Heavy duty, vinyl membranes are perfect for use on roof decks.
Constructed of 60 mils of PVC resin, these products are capable of accepting heavy pedestrian traffic & extreme heat and ultra-violet conditions.